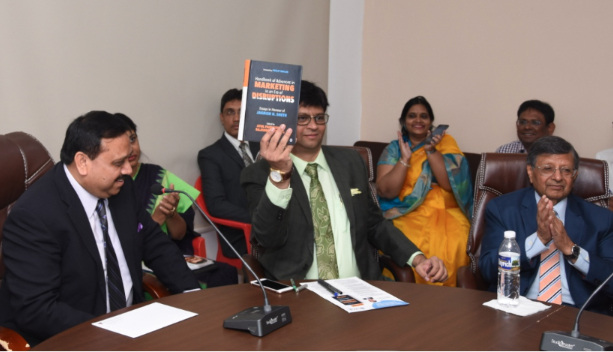 PUBLIATIONS / SEMINARS
Research Work, Publications & Seminars by Mr. Shehbaz Ahmed
Customer's Perception about the attributes of smartwatch brand and their effect on customer satisfaction using kano analysis – Journal of positive school psychology (Vol 6 , no.6 ,PP no. 10349-10356,2022)
Xiaomi invades the smartphone market in India -Decision,Official Journal of Indian Institute of Management Calcutta (Vol 47, Issue 2, Pg no. 215-228 ,27 May 2020)
Opportunity Assessment-Prerequisite for Business Success -Business Vision –Business and Management Journal (Vol:9 No.4, pp.no.76)
India as an Emerging Market – The Changing Landscape – Business Vision –Business and Management Journal (Vol:8 No.2, pp.no.42-45 June 2012)
5. Impact of Brand Awareness on the sales potential-A Case Study of Dinaz-A Fitness Icon"- Journal of Management and Entrepreneurship (Vol.5 No.2,pp.no 69-84)
6. "A Comparative Study Between Banking and Islamic banking" – presented a paper in National Seminar conducted by Alluri Institute of Management Sciences
7. Social and Ethical impact of TV Advertisements on Indian Youth – International Journal of Management and Computing Science (Vol 1. No.4, PP no.01-11 Dec 2011)
8. Consumption Patterns and consumer's preference for different varieties of Haleem in Hyderabad – Osmania journal of management (Vol IV. No.8. , PP no.150-156.Feb 2008)
9. Emerging role of Technology in developing superior customer service -National Seminar at Hyderabad Central University.
10. "Catalytic role of Marketing in the Two wheeler industry" in Economic Times.
T R A I N I N G S  &  W O R K S H O P S   A T T E N D E D
Workshop on Marketing Research and Analytics from Indian School of Business (ISB)
A program conducted by CII (WINNER's EDGE) by Shiv Khera
Attended a seminar conducted by Prof. Philip Kotler on MARKETING 3.0
Attended workshop on Technology Management organised under the joint sponsorship of United Nations Industrial Development Organisation and Administrative Staff College of India
Participated in the programme on "Managing Strategic Incoherence", conducted by IIM Lucknow.
Innovative methods in Teaching Basic Marketing – T.A.Pai Management Institute – Manipal
'Culture paradox and Indian Ground reality' – National workshop on Ethos & Leadership at CBIT.
T R A I N I N G S  &  W O R K S H O P S  C O N D U C T E D
Soft Skills for ITians at Adhyayan – 2003, the state level women IT meet held recently at Andhra Mahila Sabha in July 2003
Conducted workshop for Deputy General Managers of BHEL on "Creativity in Problem Solving".
Working Papers:
The effect of Price Drop and Promotional Activities on Customers.
Market Attractiveness and Cultural Affinity – An insightful Assessment pertaining to Indian Context.
Reference Groups Appeals to the consumers.
Customer Perception and their level of satisfaction : Relative Modelling
Mapping customer minds for formulating positioning strategies.
Research Interests:
Consumer Behavior& Decision Making
Brand Management & Strategy
Marketing Research and Methodology
Marketing Strategy
Advertising and Sales Promotions
Strategic Management